A pack halfway between the family format and the traditional trunk, but with many elements that give the product value. We are talking about the seedless tris, a selection of premium table grapes that we bought from Esselunga.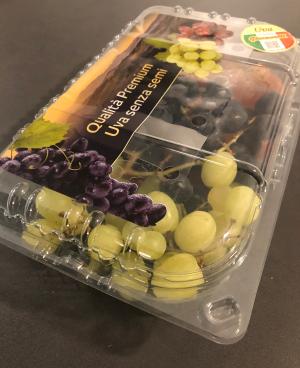 Eight hundred grams of product in packaging made of recycled plastic. On the top of the basket a sticker emphasizes the sustainability of the pack, the Italian origin and the producer: Giacovelli, an important Apulian player in the grape sector. Inside you can find three varieties of seedless white, black and red grapes: Sugraone, Summer Royal and Early Red Sweet. Taste is central to the proposal as it ranges in a vertical of flavors and textures. The white berry grape leaves a hint of freshness, the black berry grape stands out for its crispness, while the sweetness of the red grape envelops the palate with an almost surprising intensity.
In a single package you can therefore taste three premium grapes and to find out more about their origin, their characteristics and also the values and history of the producer, simply scan the Qr Code on the label with your smartphone and you will arrive at a dedicated landing page where the consumer can find all this information.
Giacovelli thus enhances the premium characteristics of its product and invites the consumer to get informed and learn more about these clusters. The seedless tris was on offer and from the initial purchase price of EUR 5.98 Esselunga applied a discount of EUR 2.
Written on: 21/10/2021
2 reading minutes